Relicensing
All registered electrical workers must hold a practising licence to carry out prescribed electrical work. You are required to renew your licence every 2 years. You have 3 months to renew your licence between the time you receive a re-licensing letter or email notice from us and the expiration of your licence. Your licence will expire if you haven't relicensed during this time.
To renew your licence, you will need:
a Google ID , Microsoft ID or RealMe® ID for login purposes
up-to-date competency training
a photo, if this is your first time applying for a licence, or if you want to change the photo currently on your card
to check that your details (e.g. address, employer) are up-to-date on the register. Your details MUST be up to date so that your new licence card reaches you.
Payment of $250 for two years
The fastest and cheapest way to renew your practising licence is to do it online. You can pay for your licence renewal by credit or debit card, or through Account2Account banking (internet bank transfer through our payment portal).
Logging in options
When you first log in, you will need to choose your preferred log in method. Most people use their existing Google or Microsoft account ID as it does not require a new account setup. RealMe is also an option. Once you log-in to the new Portal using one of the above methods you must continue to use this method for all future logins.
Forgot your username or password?
To retrieve your username or password, go to 'Login' and select 'Forgot Username' or 'Forgot Password' from the login screen and follow the steps.
Competency training
To renew your practising licence, you must have passed a Board approved competency training programme. The course you attend must be relevant to the class of registration you hold, and must be current before you are able to renew your practising licence.
Book your training today to ensure you have completed a key part of your licensing requirements. You can find available courses and book through your EWRB portal.
See the list of Board approved training providers and courses
Competence Management
When you login to your EWRB Portal click on the "Manage my competence portal" tab and this will take you to your Competence Management Dashboard. Your dashboard tells you when your current Competence Programme is due to expire and will also allow you to search for and book new courses that are happening in your area. You can see this in the screenshots below.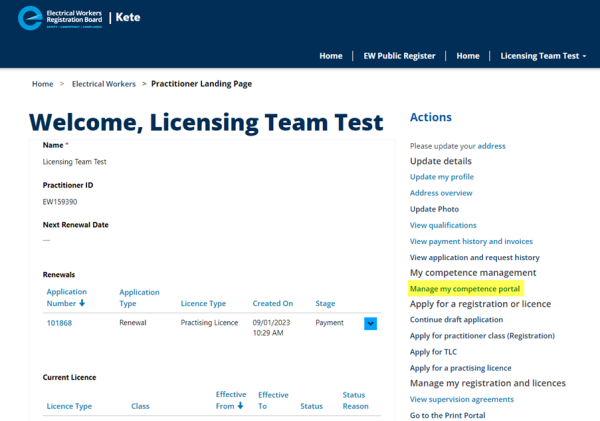 Photo ID
You don't need to upload a new photo when you relicense.
You only need to submit a photo for your ID the first time you are applying for a licence, or if you want to change the photo that is currently on your licence.
If you are submitting a photo, it must be a passport quality photo. You can view passport photo requirements and test if your photo meets the requirements on the DIA website.
How to take a passport photo — Department of Internal Affairs
If your photo does not meet these requirements, or if the Board believes it is unsuitable for use on an ID card, they may refuse the photo.
To help ensure you have a suitable photo, we encourage you to have your photo taken at your nearest Post Shop. There is a 25% discount for Electrical Workers who purchase a photo (either printed or electronic) at a Post Shop store.
In-store services — NZ Post
Photos are required to make it easier to identify you as a current and licenced Electrical Worker. You can also choose to have your photo available on the public register, which will help protect both you and the consumer.
Employer payments
Employer payments are no longer an available option unless you have the use of a company credit card. Our new EWRB Portal is only accessible by individuals and Training Providers and not employers.
If you do not require a practising licence this year
You should advise the Board why you do not require a practising licence. To do this:
Edit the "Practising Licence renewal application" on your portal dashboard
Check your personal details are correct
Click "I confirm I do not wish to renew my practising licence"
Provide a reason why you do not require a practising licence
Submit your application.
Going overseas and keeping your licence active or putting it on hold
If you are going overseas for an extended period and will miss the renewal date of your current licence you should let us know.
Keeping a NZ practising licence active while overseas can be difficult, as an EWRB competence programme must be completed to keep your safety training up to date before renewing. Only EWRB competence programmes will be accepted.
To let us know you are going overseas, you can either go to the online renewal form and click on "no practising licence required" or contact us to advise that you are going overseas and won't need a licence. This will ensure that you have no problems relicensing when you return.
When you return, you can apply for a practising licence either online or by sending a paper application by post, after completing an NZ competence programme. Your new licence will be granted for 2 years, and you will have a new anniversary date for renewal.
Invoice copies
If you need a copy of your invoice, you can print it once you have paid for your licence by following the instructions below.
On your portal dashboard, click "View payment history and invoices"
Select "My transactions" from the drop-down bar
You can then choose the type of transaction – select "invoice"
Click "search"
Click on the blue invoice number, which will open your invoice in a PDF pop up screen
Then click on "download PDF"
It will download in your browser, click "open file"
From here you will be able to print it as you would a normal PDF document.