DEMO for Comp. Provider with Safety Training responsibilities: EW OLP and CPD system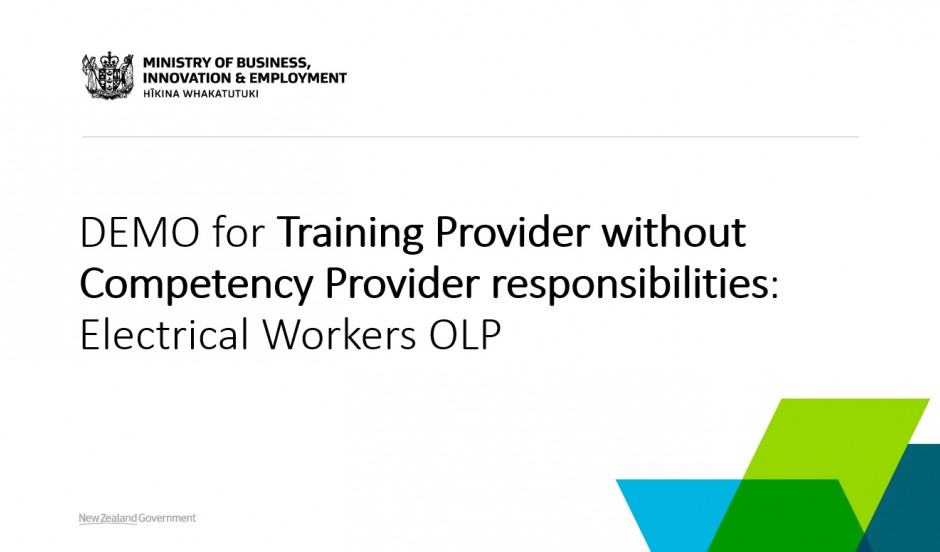 View transcript
Transcript
00:00
Well, first off, thank you very much for joining us on blustery Tuesday morning and certainly windy where I am.
Today's session is going to be focusing on the new Electrical Workers Occupational Licensing Platform, which we're calling the OLP, and also the Continuous Professional Development system, which we're calling their CPD.
So these two systems are planned to go live on Monday, the 4th of October. So this whole week, we're doing a whole lot of demonstrations to introduce people, like yourselves, to the new systems. We're also be providing user guides as well. So these user guides have been completed, but we won't be releasing them until after we've had all of these demonstrations, so that we can make sure that any of those kind of common questions that you guys are asking us can be incorporated into those guides as well, during the session as well.
We'll have a bit of a Q&A. So any of those questions that you may ask will be incorporated, and they'll be sent out separately as well. For those questions, feel free to unmute yourselves at any time and speak up, or there is a chat function at the bottom of your screen as well.
So Josephine will be running the demon demonstration. But I'll be in the backend watching those questions as well.
If you're unfamiliar with zoom as well, just let us know, we can do a quick one on one on how to use the system as well.
Any questions that you do ask that we don't have the answers for straight away, we'll put those in our little parking lot. And we'll come back to you as well.
So at the end of the week, you'll have a bit of a package from us, which will include the video of this recording, so you can come back and have another look, you'll have a copy of that user guide as well. And also the summary of the Q&A. Any other questions?
Yes, so I will hand over to Joe. Just a reminder, if there's any language that you're not familiar with, feel free to let us know. And we'll clarify that as well. We don't want to make any assumptions that the demonology that we're using is the same that you're using as well. So I'll hand over to Joe now.
02:30
Morena everybody, welcome along to the session. As Karen said, I'm going to be taking you through two new platforms, our Occupational Licensing Platform, and Continuous Professional Development Platform, OLP and CPD. So I will just get my screen share going in just a minute.
03:01
Perfect. So now we've got this opened up. And to start with here we are on the new Public Register, which has a little bit of a different look and feel quite similar to what we've had before with a couple of key changes. Most people don't necessarily use this all the time, but I think it's worth highlighting what is available there.
We do have the option to use a wildcard search, so if you're only aware of somebodies partial name, you can search by that. Or you can use the advanced search to go through and find out based on things like preferred name, because a lot of people don't go by their formal first name. You also have the option here to search by registration class registration number, as well as their electrical worker number which is referred to as a practitioner ID. So I just thought we'd land here to begin with. And from here, I will take you through to our CPD platform.
This is a test version of the CPD platform, so for competency providers, this is not necessarily the final look and feel because I am in the test version. From here, when you land you will land on a dashboard page very similar to this.
Your login page will look like this and you will be provided with a username and a password ahead of time. And then you'll land on this dashboard.
The dashboard will give you a little bit of an overview. It will show your details here, so you can make sure you're logged in as the right person. So it can contain your name and email address where you're located. It will also include a list of courses that you provide. In this case, we've got three test courses in there. There'll be a link through to that Public Register that I showed you earlier. So if you're wanting to find out more about particular practitioner, you can navigate to it straight from here instead of having to go through to the EWRB website. And it will also list any upcoming events that you are running.
So I suppose something important to note in this system is that we've got courses and we have events, and they are a little bit different from each other. Courses are more general, in terms of this is something that you might provide regularly. It contains the details of if you run the same course, you know, once a month, every month, you'd have one course page, and then you just add an event, each time it was actually going to happen.
You can leave course pages up forever and ever, without necessarily having to run a specific event for it. But each time you are going to be running that course, you just add another signup event essentially for it.
I can see here, Karen has added something into the chat, which just says if you have any questions, you can add them in there as well.
From here, I'll take you through to a course so that you can get a bit of a bit of a better feel for what that kind of looks like as a Competency Provider. This one is very much a test course. But it does give you an idea that we have a fair amount of flexibility and what can be included. This is also the view that the Practitioners will see when they're able to come into this website.
So our Electrical Workers will be able to come in and view what you are offering. We've got a space for you to pop in a logo if you would like to. And then we've got basic details around an introduction to the course, how to sign up, what it covers. And if there's costs associated with it, how much those are.
From here, you can include details around how you want people to contact you, and how you want them to sign up for events. So if you, for example, wanted to use the booking functionality within the site, you can do that, and a practitioner, or electrical worker, who is you know, already in the system can log in here, find one of your events and booked into it, if there are spaces available. Equally, if you didn't want to use that booking functionality, you can still list when things are happening. But we can turn off that booking system so that you would have to add those people in manually yourself. And when you did that, we'd add some text up here to say hi, if you want to book into this course, either go to this specific website or contact this person at this email address so that you have control over how these people are signing up.
07:47
It also includes a bit of detail around what the course covers, so that you can provide a really good bit of detail before people book a course as to what exactly they're signing up for. And you know what they're what this is tailored for, in terms of all that information.
You can also list the cost here. So that includes how they would pay, the system doesn't have any payment functionality. And so you can continue to take payments however you prefer. You just include the details here on how you'd like that to work. So if you have a particular bank account, or you prefer to do things through a separate website, that is very much up to you, you can choose how you want to work that out.
So that is the general course page. And you can include a lot of information in here. I believe a member of our team Sue, has already contacted most of you to request course details if you're a competency course provider. And we will get these course pages set up for you ahead of time to contain the information that you want them to contain.
From here, I'll take you through to the events. On this section here, you can see that we are running this course three times. They've got one on the 23rd, one on the 30th and another one, 23rd October this time. From here, a user can go to the event. So we're working as a practitioner, though, as an electrical worker, and they can sign up if you choose to have that functionality available to them. If you choose not to have it available, this box disappears and says you're not able to sign up here, please go to you know, go back to the course and view how to sign up there. That's how they would do that.
But for you as a course provider you can go in and view all of your events. This includes ones that have happened in the past. So you can see here I've had two that have previously run and attendance has been submitted for them. Let's get there. And then we've got three that are coming up in the future.
This one here can see that four people are already signed up. For the course, which is good. But if you wanted to add somebody who has, you know, if you're not using the internal booking system, you can always add an attendee by selecting the event and selecting attendees.
From here, you can choose how you want to add users. If you've only got one or maybe two to add, you can search for them. So you can just select Add Users, and then you can search using their name or their electrical worker number. You can use a file upload, which can be a CSV file, we'll provide further guidance on how that works with our user guides later on. And you can also add users via a list of IDs, which is just using their electrical worker number, you can just add in a list here of those individuals like that, and then allow and hit continue, that would sign them up for the course. So you've got that option as a cost provider to either allow the Electrical Workers to sign up for things themselves, or for you to sign them up and the system yourself and essentially, do that how you previously would have done in terms of taking bookings outside a system and then telling us what those results are.
Were there any general questions at this stage around the course page itself? Perfect.
11:38
Yeah, I do you have a question? Oh, great.
11:42
This is fine. We're the Electrical Workers has actually got practitioner ID number or EW file number. But I quite often meet people who are in the process of applying for a limited certificate, or trainees who just started work, and they don't actually have that practitioner ID number. So therefore, they don't exist on the board's database.
12:14
So for those users, that way, we do have the way of adding them. So they won't have a registration number yet. But if they have applied to become an electrical worker, or they're on a limited certificate, they will have an electrical worker number. It's separate from the registration one.
12:35
I do realize that, I'm not actually stupid. What I meant was, people who are in that process who do not yet have the EW file number. In other words, there they cannot …
12:51
Can I intervene at this point, Nick? Yeah. Okay, Nick, what they are, before they apply. They can receive an EW number just by signing up with us. And that can be the first step before they can come and do your course.
13:12
I know they can. But I quite often meet people who haven't actually done that yet. Especially. Well, it's not happening very much these days. But the 430 people that I've trained in UK a significant number of them were doing the course, to get an idea of how to actually apply. And I meet quite a few people who have arrived in New Zealand or new trainees, who have just accepted a job, but they don't actually, they haven't gone through the process of applying to the board for a number. So what I'm doing at the moment is issuing them with a training certificate. And they submit that to confirm that they've done the competence program course, at the time that they actually apply for a limited certificate for claiming
14:11
For that one Nick, they wouldn't need to do a full formal application for any registration, they can just register with our online portal, and that will automatically get them an electrical worker number. That only takes a couple of minutes for them to do. And it's really easy and available through our website.
14:28
Okay, oh, that's good to know, because I had no idea that existed.
14:34
Yeah, so that's part of the new functionality coming through with the new licensing platform. They'll be able to go in, and request an account and an electrical worker number will be generated for them at that point.
14:46
I mean, I do say these people apply to the board and get that number because without it I can't lodge their details, you know, the fact that they've completed a competence
14:59
Of course, yeah, definitely. And of course, until they contact us, we have no idea that they exist anyway. So yes, I always recommend first port of call, they can do their initial sign up, then everything will go nice and smoothly for them and for you as well.
15:18
Perfect. So within our course page here, again, you've got all the details, and you've got a list of events that you can run. If you wanted to add a new event, you could just navigate to view all events. And let's say you're running the same course again, but you're running it in November, you can either choose to add an event here at the Add event button. Or if you've got pretty much the exact same details as last time, same location, that's the similar time. You can also just choose to copy an existing event.
15:54
Jo, Peter Rushworth here, I have a question.
15:56
Sure thing Peter.
15:59
And its only terminology. You said to raise it if the words we use it, of course, you're using. Um a user to me is someone who uses the system, like administrators or providers, trainers. And the people that attended the core team, the course, I think known to most of us as participant>, I guess we can get used to changing and thinking of them as users. But um, any chance we could change that?
16:30
Yeah, of course. So when we are adding them in, they'll be listed as attendees within here. So that's how it will show for you. Sorry, I've been using the terminology of users, because in my experience, where I'm in the system, everybody's using it. So everybody becomes a user, but I'll be sure to limit it and just say these are Electrical Workers. And when you are viewing them in the system, they will show up for you as attendees to your course events. Perfect, thank you.
So within this new event, we can see here, it's copied across the exact same details as last time, if you wanted to change the location, you can do so. But let's just select to change the date so that it is in November. So let's run this again on the 23rd of November. Select OK.
Here as well, you've got the option to change how many people can book in, enable a waitlist, allow them to cancel, if you were happy with them pulling out of your course you know, making a cancellation that way, you do also have the option to have it turned off. So that if you wanted to handle cancellations separately, you can do so yourself. It also includes information around if you're going to have a minimum booking, or a notification about a minimum booking. Also, cost is there. So if you wanted to include details around costs, you can do so in any further details.
18:02
Perfect. Once you select Save changes, it will now appear in your list of upcoming events. We can see it here the one on the 23rd of November. And our Electrical Workers will be able to view it in your course page, along with all of the other events that you have coming up. So they'll be able to see it here. And they can sign up if they want to or if you've enabled that functionality.
Once a course has happened, you are then able to go through and formalise the attendance, of that course, of people who have attended and successfully completed it. And to do that, you just go to our past event. And you can go into the attendees section here. These are the people who signed up to attend, these two currently already got attendance records. But if for example, you had a couple of people who signed up outside of the system, you know who called you personally or emailed you, you noted them down and had them there. And now you just need to send us a record that they did what they needed to do. You can add them. You've got the options to do that either one by one, if you've only got one person to add. Or if you've got a big list, you can do a CSV file upload, which we've got guidance on coming later this week, or using a list of IDs.
For this one, I will just take you through a quick little search option here. As you can see, we've only got 96 potential users or their potential attendees, because this is the test database so we don't have terribly much but let's add Daisy Duck.
19:48
Perfect. We won't send her a booking confirmation because it's already happened. And then we can just select confirm. Now Daisy is in here. She's listed as booked. If we want to update and say what happened when she attended, we just click to our take attendance tab.
From here, you can either select to update them all, or you can select them one by one here. So if you had 20 people, you know, 20 Electrical Workers who had signed up and had attended your course. You can set all of them to have attended and passed in one go. But if you had differing outcomes as well, you can go through and do them one by one. In this case, we've already marked Beige and Brownie as having fully attended, done, what they needed to and past. But Daisy, we just need to update that for her. Then all you need to do is save that attendance record. Perfect. And now it's updated her say that she has attended and passed this course.
21:02
Excuse me, Jo, can you just touch that drop down box again? So we can …
21:06
Yes, of course. We do have four different options available for you to select. We have attended and passed. We've got partial attendance, incomplete. We've got unable to attend. And we've got no show. So if you do have people signed up, failed to come or were unable to attend on this occasion. You can include that information here as well.
21:33
Jo, can you hear me? Yes, I can
21:36
Its Jude here from Electrainer. Sorry, I'm late getting on. I had no trouble getting onto it. So I've missed the probably the first quarter of an hour. So there are one of the things there's two or three things I've picked up quickly. Firstly, under your bookings, we always have a maximum course number. I didn't see anything on there, minimum is fine. We always have a minimum of 12 maximum, maximum of 18 …